Original panama hats hand woven in Montecristi, Ecuador. We export high quality panama hats all over the world. Ask about our latest specials and take advantage of the opportunity of owning a genuine panama hat from Montecristi.
We specialize in 7 types of Panama's. Review our website and find more information about the Fedora Classico, Fino Classico , Gambler , Havana , Optimo , Plantación , and the Semicalado .
Montecristi Panama Hats
We specialize in exporting Montecristi Panama hats around the world. These Panama hats are made by master weavers from the town of Montecristi, in the coast of Ecuador.  Very thin straw is used to obtain a sharp and tight weave that produces the finest straw hat in the world! Depending on the fineness of the weave a Montecristi hat can take several two months to weave. The result is a hat with a soft texture and an elegant natural straw color.
Please browse through our website to select the genuine Montecristi Panama hat of your choice
Panama Hats Vendor
Genuine Panama Hats are manufactured exclusively in Ecuador. They acquired their name after being commercialized in Panama during the construction of the canal in the early 1900's.
The Panama Hat originates from the toquilla palm leaf that grows in the warm coastal lowlands of Ecuador.  The palms are shredded into fiber straws, sun dried, woven by hand, trimmed and shaped into what are perhaps the finest hat made in the world!
Find the best panama hats for sale by contacting Coastal Hats.
Fedora Hats Sale through July !!!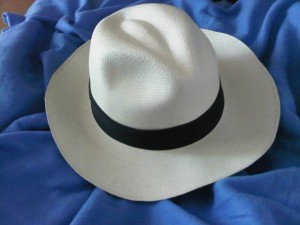 Own an original hand made Fedora hat shipped to your doorstep directly from Montecristi !!! Prices start at $100,  ask about our super fino Fedora's which are also on sale through July !